manifestacije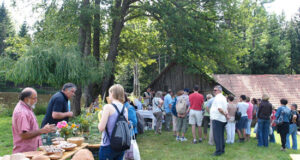 Gorski kotar Fruits of the Mountains
Enjoy nature and its delicious produce
Gorski kotar's most original and ecological event – Fruits of the Mountains – will surely delight everyone who wants to enjoy and learn more about nature and sample some of its tastiest produce.
Gorski kotar 'Fruits of the Mountains' comprises a wide range of tourist events. This is a series of events from April to November aimed at offering visitors novel quality tourism and the opportunity to experience life in harmony with nature and also to learn more about the area's cultural and natural heritage.
Events take place in different locations throughout Gorski kotar, bringing together local agricultural traditions, natural landmarks and cultural heritage. The programme includes a series of events dedicated to various local fruits and produce: elder, strawberries, raspberries, blueberries, medicinal herbs, lavender, plums, apples, mushrooms, pumpkins and many more.
 These programmes are based on excursions into nature with an emphasis on the gastronomy and produce of the area, which gives visitors the opportunity to meet local producers and family-owned farms, discover areas where medicinal plants and wild berries grow, visit old orchards, medicinal herb and berry plantations, and also to learn more about the medicinal properties of the plants and their nutritional value and possible uses.
This is also a great opportunity to combine recreational activities with learning about the ripening of certain fruits or the blooming of medicinal herbs.
 Visitors to 'Fruits of the Mountains' events can sample specialities made from these fruits and also choose from the wide range of souvenirs and homemade produce on offer. The programmes follow the same basic principle but take into account the distinctive features of the local area and the diversity in the taste of individual fruits. Each event includes the opportunity to walk, explore and enjoy the particular sites in the local area (hills, forests, vantage points), thus learning about the nature, traditional agriculture, local produce and rich cultural heritage through fun and education in beautiful green surroundings.